The Toronto Injury Lawyer Mailbag fills up with questions from our readership for personal injury lawyer Brian Goldfinger. Brian has taken the time to pick some interesting, and most asked questions about personal injury law in Ontario; what it's like to be a personal injury lawyer; and some silly ones as well.
Please enjoy this rapid fire question & answer session with Brian Goldfinger.
Q: How many kids do you have
Brian Goldfinger: Two
Q: What it like being a personal injury lawyer with two kids?
Brian Goldfinger: Hard, but rewarding, but hard. The practice of law requires your time and attention, so do your kids. Finding that balance is a tricky dance. By the time you figure it out, your kids likely won't need as much attention as they once did.
Q: What's been your most interesting case.
Brian Goldfinger: That's easy. It's the case of the Brazilian Wax gone bad. A newly wed woman in anticipation of her romantic Carribean honeymoon got her first ever Brazilian Wax job. Let's just say that the wax job was a disaster and required a number of sutures. I then worked on the file and got her the compensation which she deserved, and then some. It was a memorable case because the facts were so unique and you just don't see that sort of injury, at that area of the body everyday.
Q: What are the most common cases Goldfinger Injury Lawyers handles?
Brian Goldfinger: We have seen a spike in Long Term Disability cases over the last few years. Not sure why. Likely more Long Term Disability insurers playing hard ball with deserving disability claimants. Or there could be other factors I just don't quite understand. We certainly handle a wide variety of other cases like serious car accidents, bike/car accidents, pedestrian/car accidents, dog bites and slip and fall cases as well.
Q: How long will it take for a typical personal injury case in Ontario to settle?
Brian Goldfinger: No case is typical. I tell people that personal injury cases are marathons, not sprints. Every person is unique which makes every case unique. There is no typical time in which a personal injury case will settle, or not. Some cases take years because the insurance company may simply not like the injured Plaintiff. Other times, the injured Plaintiff's injuries take a very long time to plateau. Either way, it's not uncommon for personal injury cases in Ontario to take a long time to settle; or go to trial for that matter.
Q: How long does it take for a case to go to trial?
Brian Goldfinger: It used to be that the length of time from opening the file, issuing the Statement of Claim, and getting your case to trial was rather quick (if 2-3 years is quick). Unfortunately, the wait time for a case to go to trial has increased significantly in the civil justice system. A lack of resources given the volume seen in the Superior Court has. caused everything to slow down to a stall. Add to that the impact of the R. v. Jordan Supreme Court decision has seen a diversion of Court resources away from the Civil Justice system towards the Criminal Justice system. The end result is that innocent accident victims have to wait even longer for their day in Court.
Q: What is your hourly rate?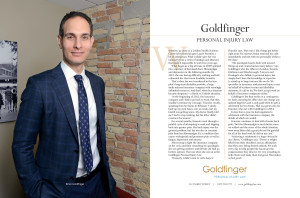 Brian Goldfinger: $650/hr, but people rarely pay it because we take on all of our cases on a contingency fee basis meaning our clients don't pay any fees unless the case settles. Even if my hourly rate was reduced to $200/hr, the vast majority of our clients would not be able to afford it given the amount of work and hours which go in to each and every personal injury case. These hours add up considerably, making litigation on an hourly rate basis unaccessible for the majority of Canadians. Only the wealthy (individuals and corporations) have the resources to afford a lawyer on an hourly rate basis. The vast majority of the cases you see in criminal and family court are funded by legal aid because those individuals do not have the funds to afford a lawyer. By taking on cases on a contingency fee basis, our law firm is providing a valuable service by giving people access to justice and access to the Courts which they otherwise would not be able to afford.
Q: Is access to justice important to you?
Brian Goldfinger: It most certainly is! How else do you think John Doe, father of two with a mortgage who can't return to work; can afford to take on a multi national, multi million/billion dollar insurance company? The party with the deepest war chest wins when it comes to civil litigation. Without personal injury lawyers taking cases on a contingency fee basis, there would be very few claimants with the resources to fund the litigation to stand up to the insurance companies. Even if someone funded the litigation on an hourly rate basis, the insurance company always has more money to throw at their lawyers, experts, private eyes etc. than the injured Plaintiff does. Also, that David vs. Goliath battle has always interested me. I like standing up for the little guy against a big nasty insurer trying to bully someone around.
Q:What is your favourite Courthouse?
Brian Goldfinger: Toss up between Orangeville, Brockville and Goderich. All are historic, beautiful and have great/friendly staff. Not like some of the newer and more sterile courthouses you see today. The newish Courthouses in Brampton, Oshawa and Kitchener are all modelled after each other, and are all very similar. Likely the same designer behind all of them and it shows. New and flashy yes. Original no.
Q: How do you think the Toronto Raptors are going to do in the playoffs?
Brian Goldfinger: I remain very optimistic with the Raptors' chance of success. The Wizards are dysfunctional. So are the Cavs. It looks like LeBron already has his bags packed.