The home office of Goldfinger Injury Lawyers is in North York, near the busy Yonge and Sheppard intersection; a short distance from the 401, with TTC subway access to both the Yonge Line and to the Sheppard Line. It's a busy area with lots of shops, restaurants, condos, traffic and construction. Finding a parking spot in the area can be tricky because it's such a busy area.
We are fortunate to have reserved parking at the front and rear of our office. The spaces are reserved for our clients, employees and guests to our law firm.
All vehicles which park on site need to be registered. If they aren't registered, they will get ticketed or towed.
Safety for our staff is very important. We don't want any wrongdoers on site up to no good. In the past, we've had a few odd characters hanging out or lurking out back. When asked to leave, they did without issue.
But when there are problems, we have to call in for private security, for Toronto Parking Enforcement, or as a last resort, the police.
The purpose of this edition of the Toronto Injury Lawyer Blog post is to share with you what can happen when things get creepy on a private parking lot; and to share with you how even those who are required to uphold to law can fail (which shouldn't happen, but it does). Our story isn't a big deal. Nobody was hurt and no damage was done. But when the people who are there to enforce rules/laws and are incorrect in their understanding of the rules; chaos ensues.
On the morning of Jan 23, 2023 there was white
Bell
Van parked in the rear parking lot. All vehicles which park at the rear of our lot are registered with my office to park there. The spaces are numbered for our employees and clients. Other people pay to park on site. We do this for security purposes, and to ensure that nobody is abusing the lot given that it's near the busy intersection of Yonge and Sheppard in Toronto.
The white
Bell
Van was suspicious because:
1. It had no front license plates
2. There was no work authorized or requested at our address (so why was it parked in our back lot reserved for clients and employees)
3. The vehicle was improperly parked between spot #30 and spot #29; thereby taking up 2 spots
4. Nobody had asked permission to park there. The vehicle was parked without anyone's permission on our parking lot.
I approached a person who purported to be a
Bell
Technician and asked him what he was doing there. He told me that he had to work on a line.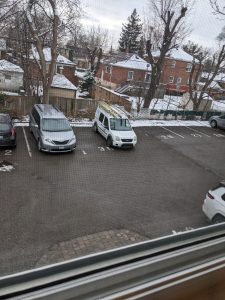 I asked him who requested the work and he refused to reply. I asked why he was parking on my property to which he responded that my parking lot was "public property" and that he was allowed to park there.
I told him that the parking lot was not public property and asked him to park somewhere else. He refused to leave.
It was at this point in time that I asked him for:
1. Photo ID confirming that he was in fact a
Bell
employee, agent or contractor. He failed to produce any such proof
2. His name and employee #. He refused to provide me with this information. He told me that he would only produce this information if asked to do so by the police. I found this very suspicious. If he was a
Bell
employee, agent or servant, then why would he not produce this information?
3. The name and contact information for his manager or supervisor. He again failed to provide me with this information.
It was at this point in time that my staff and I felt very uncomfortable. There was a stranger who was parading himself as a
Bell
technician parked without our permission on our property who failed to have any visible
Bell
ID, and who was refusing to provide any contact information to verify that he was who he said he was.
This is exactly how heist movies are set up. The robber dresses up in a technician outfit, in a white van without license plates to conduct recognizance or to set up some sort of device to sabotage their target. It was straight out of a movie!
As
a personal injury law firm
, having access to accessible parking for our clients is paramount. This man unlawfully took up 2 parking spaces without asking permission to even park on our private lot. He assumed (
incorrectly)
that it was a public lot. He likely did this because it made his job easier by not having to walk as far to access his vehicle had he parked on the street or somewhere else.
Because this man refused to move his vehicle, we had no choice but to contact the police.
We contacted the police who put us in contact with parking enforcement.
To my surprise, the Parking Enforcement officer agreed with the strange
Bell employee
(
who had no Bell ID
) that my rear parking lot was public property and that he was free to park there; without permission. This gave the Bell employee (
who had no Bell ID
) continued license to park illegally on my parking lot.
I repeated to the parking enforcement officer that the lot is not open to the public. It's reserved for our staff and clients. I repeated that the parking lot was not free to uninvited visitors and that the Bell technician was not permitted to park there without our express permission.
Again, the parking enforcement officer sided with the Bell employee (without any Bell ID) that he was free to park in our parking lot; without permission; because in her mind our parking lot was a public space.
This is patently wrong and very concerning that a parking enforcement officer does not know the difference between a public parking lot and a private parking lot.
The parking enforcement officer was clearly in over her head. She on her own initiative, called the police to investigate. It was only after the police arrived that we got the name of the person's supervisor (but not his name), along with the peace of mind that he was in fact an employee, agent or contractor of Bell, there to do a job. It was only after police arrived that the man moved his vehicle to the street, where it ought to have been parked in the first place.
This was akin to someone parking in your driveway; and the parking enforcement officer agrees that your driveway is a public space; free for anyone to park there.
More disturbing is that a Bell employee was allowed to trespass on private property, without any photo employee ID certifying that he is there to do a job; and parking enforcement acts as if this is par for the course and completely normal.
Could all of this been avoided? Absolutely! All the Bell Employee needed to do was:
Tell us that he was there to do a job. Tell us what the job was for. Present his employee ID, and ask politely that he park in our lot. Kindness doesn't take a day off. It could have gone a lone way in this situation.