Middle of January in Ontario = snow, ice, sleet, slush and mush! The cold, rain and snow all make for difficult driving and walking conditions. A serious accident can result in serious injury, bringing life long health consequences and long term care requirements.
You would be amazed by the volume of inquiries our law firm gets around this time in relation to accidents caused by hazardous winter conditions (snow, ice, slush, etc.)
1. Here are some quick tips on staying safe, and what to do after an accident caused by snow, mush, sleet, slush or ice. If you've been involved in a serious accident, it's always a good idea to report it to the police or to contact an ambulance for your injuries. The police will be able to properly document how the accident happened, and get the contact and insurance information for the parties involved. If the root cause of the accident is very complicated, the police will even call in a forensic engineering team to investigate the cause of the accident.
2. Don't be a superhero; seek medical attention! If it hurts right after your accident, chances are it might get worse as time goes on. Best get those injuries looked at sooner rather than later so that you have a proper understanding of what happened as a result of your accident.
3. Winter Boots for your feet! Winter tires for your car! I'm always amazed at the amount of people who don't wear winter boots while walking outside in the snow, slush and ice. Breaking an ankle or a leg on account of a slip and fall on ice which could have perhaps been prevented had you been wearing a proper boot is bad news. The recovery time for a broken ankle or leg can take months; maybe even years. Don't mess around with an Ontario winter. Invest in some good boots, and winter tires for your vehicle as well. You may even get an insurance rebate for having winter tires on your car!
4. Use your Smartphone for all the right reasons and take photos or video of the accident scene! We hear a lot of PSA warning about the times NOT to use your smartphone; ie: distracted driving and distracted walking. I agree with those PSAs. But, there are other times when using your smartphone is very useful. Like after an accident happened, taking photos or a video of the accident scene. Or, if you slipped and fell on a patch of ice, taking a photo or a video of that patch of ice. The reason this is so important, is because that patch of ice which caused you to fall, may likely melt, or change shape the next day. If you don't have any proper evidence to show the Court what caused your fall; establishing liability against the allegedly negligent property owner may prove to be difficult.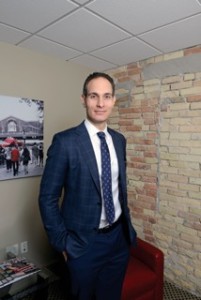 5. Slow down! Getting around in the winter is inherently more dangerous than getting around in warmer weather. Snow, slush, sleet, ice and black ice are all potential hazards which may cause accidents to happen. There's no need to rush. Blaming the weather or poor driving conditions is acceptable on a bad winter day. Slow down and arrive at your destination safe and in one piece.
6. Make sure that the windshield wiper blades and wiper fluid in your vehicle is ready for the snow and the cold. Proper visibility is imperative to safe driving. If you can't see where you're going, then you're in for trouble. That's why you have to make sure that your windshield wipers are up to the task and that your wiper fluid is topped up and can stand up to the winter road conditions.
7. Sand, salt and plow your property. We get calls from property owners who slip, fall and injure themselves on their own property. They want to know if they can sue themselves for having unkempt snow and ice on their property. Suing yourself is out of the question. But maintaining your property with regular sand, salt and plowing is certainly an option. Not only will this keep you safe, it will also keep all of the invitees/visitors to your property safe as well. It will also ensure that the mailman can deliver you mail, instead of receiving a nasty note from Canada Post advising that your property is simply too dangerous to deliver mail to.
8. Winter jogger/winter biker? Get good reflectors, lights, and gear that helps you better grip on snow and ice. I see a lot more people active on the roads running, biking or even cross country skiing! If you're sharing the roads with cars, make sure that they can see you too! With all the snow and sleet popping up, their line of sight may be compromised or they may have their eyes on something else. Make sure they can see you. Stand out with reflective gear and lights. Those hard to look at neon shirts don't hurt either. They serve their purpose and some find their fashionable.
9. Hope for the best, but prepare for the worst on long winter road trips. Pack a blanket, candle, emergency kit, make sure your phone is charged, and have your insurance and Auto Club information handy. You never know when these emergency items will come in handy for those long winter road trips.
10. "Bridge Ices" signs really mean something. They aren't just put on bridges for the sake of it. Those bridges actually do ice; thereby causing hazardous driving conditions. So take particular care when crossing them and slow down.
Enough law talk? Sure. On to the Toronto Raptors? Yes please! There has been a lot of talk about the Raptors acquiring Paul Millsap from the Hawks. I think that the asking price for Millsap will be far too high. That, coupled with his age does not make him the best target as he would essentially be a rent-a-player as his asking price on the free agent market next season will be far too rich. I think that the big target lies with the Kings in Boogie Cousins. I think he's a player who would really move the needle.