Spring is here. Well. Kinda. The snow has melted in some parts of Ontario at least. I was in Thunder Bay 2 weeks ago and the snow hasn't yet melted there, but it's starting to. The snow around the Peterborough office is slowly melting. And I can say without a great big smile on my face that the snow around the London and Toronto offices is now completely gone.
Toronto Injury Law Blog readers seem to love my lists, so without further ado, here are Brian Goldfinger's top 5 safety tips for the springtime. Keep in mind that these tips won't keep you or your loved ones 100% safe, but they will certainly reduce the risk of serious injury related to accident. I've developed these tips after years of seeing how accidents happen, and after years of seeing the mistakes which people begin to make after a long hard winter season.

1. Wear a helmet: Whether you're out riding your bike, motorcycle, skateboard, on rollerblades, on an ATV, scooter, e-bike, rock climbing, wearing a helmet will significantly reduce the likelihood of sustaining an injury following trauma. After an accident, one of things which the police will note in their report is whether or not the victim was wearing any safety gear like a helmet. At law, there a damages award will be reduced if the victim was not wearing a helmet. It's the same principal if you were not wearning your seat belt in the car. The accident would have happened either way, but your injuries would have been less had you been wearing a helmet or a seat belt. Broken bones mend. The mind however, once it's been banged up once really bad, or over a number of years doesn't. Look at Eric Lindros who had to retire from the NHL early on account of brain injury. Look at the NFL Players Union seeking to bring a class action lawsuit against the NFL for failing to warn their players about the danger of concussion and head injury. You don't want to take any chances with your brain, so please wear a helmet.
2. Don't drink & drive: The nice weather sets in. We all get more active. We go out later and socialize more. These gatherings tend to involve alcohol. I've said it before, and I'll repeat it again, don't drink and drive. It kills. Call a cab. Get a designated driver. Walk. Take transit. Don't do it.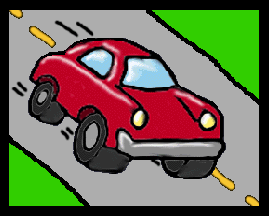 3. Don't text & drive Smartphones are major parts of people's lives. When's the last time you left your home without your smartphone? We feel like the moment we get a text, email, or instant message that we must reply. Being a distracted driver is just like being a drunk driver. It causes serious accidents. Wait to reply. Don't text and drive.
4. Slow down: Nice weather. Top down on the convertible. Fast car. Fast speed. Just because the road is open and inviting doesn't mean you can speed down it at 200km/hr. Speed kills. The laws of physics dictate that the faster the speed the harder the impact. The less time you will have to slow down your vehicle to avoid a car accident. The faster you drive, the less time you will have to react. It's that simple. If you have a need for speed, hit the race track.. Motorsport Park in Bowmanville is a good place to start.
5. Keep your vehicle maintained and in a proper state of repair: Whether you drive a car, van, bicycle, motorcycle, boat, ATV, or scooter, keep it in good condition. Get the brakes checked. Make sure that the tires aren't bald. Change the oil regularly. The last thing you want is your vehicle breaking down on you and causing a collision. It happens. Even worse is waiting on the side of the road for a tow truck, and then somebody loses control of their car and hits you while you're a pedestrian at the side of the road. I've had those sort of cases on too many occassions, and believe me, the injuries and damages sustained aren't pretty. Policy limits are generally $1,000,000 and no amount of money can ever make these people whole again. While $1,000,000 might sound like a lot of money; no financial sum will ever help these people walk again or return to their pre-accident health. $1,000,000 won't even buy you a good house in Toronto for that matter.
I'd like to conclude this blog post by commenting on the Ontario Liberals and NDP parties voting together to reduce auto premiums by 10-15%. if that happens, it's great. But this is only happening because insurance companies in Ontario have seen profits jump by over 50% since accident benefit laws were changed on September 1, 2010. Basically, insurers are paying out only $3,500 in benefits with the introduction of the Minor Injury Guideline instead of up to $100,000 in benefits. Basically, insurers can assign cases to the Minor Injury Guideline without thinking twice. It's cheaper to pay out $3,500 in benefits and close the file, rather than leave it open. The results has been a deterioration of your accident benefits, and enormous profits for insurers. The real solution is an elimination of accident benefits all together in favour of a straight tort system with no threshold or deductible (both of which were instituted on the lobbying efforts from insurers). Isn't it funny that no matter how we complain about jobs, education, transit, or healthcare, CAR INSURANCE always gets tinkered with. I wonder why. $$$